Vacuum Destoner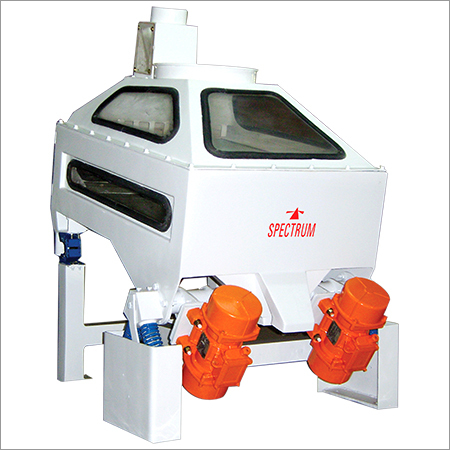 Vacuum Destoner
Price And Quantity
Product Specifications
Processing Machine

Gear Drive
Product Description
Vacuum Destoner

Spectrum Vacuum De-stoners are used for separating heavier impurities such as stones, glass, metal etc., from food grains and seeds such as wheat, corn, peas, paddy, sesame, coffee, peanuts etc. as well as any other dry granular material.
The principle used is the stratification of the product into heavier and lighter fractions by forcing air through the bed of material. This is achieved by means of a Suction fan connected to the machine or by connecting the machine to a Central Aspiration System.
The vibration of the deck is achieved by means of unbalanced vibratory motors mounted below the product discharge end of the machine. The Vibrating deck pushes the heavier material in contact with the deck upwards towards the stone discharge spout. The lighter good material flows down the inclined, vibrating deck and exits through the clean product spout.
The inclination of the vibrating deck and the stroke of eccentric motion can be finely adjusted to achieve the optimum degree of separation. The de-stoning efficiency is extremely high with consistent and trouble free performance.
A wide variety of deck screens are available to suit specific need. All adjustments can be made with ease and minimum of operator training.
Technical Featires:
Dust free operation due to vacuumised system
No maintenance due to the use of unbalanced vibratory motors.
Deck inclination and stroke can be finely adjusted.
Easy control of air flow and feed rate.
Windows provided for on-line product viewing.
Note:
Capacities are only indicative and have been specified for Wheat only and therefore may vary from commodity to commodity
In View of Improvements in design, Specifications are subject to change without prior notice.
Technical Details:

| | | | | |
| --- | --- | --- | --- | --- |
| Description | VS-50 | VS-75 | VS-100 | VS-150 |
| Power Required in HP | 0.66 | 1 | 1 | 1 |
| Capacity per hour in Tonnes | 0.75-1 | 1.5-2 | 3-4 | 5-7 |
| Nett Weight in Tonnes | 250 | 300 | 350 | 450 |
| Gross Weight in Kgs. | 350 | 425 | 500 | 625 |
| Shipping Volume in Cu. Mtrs. | 105 | 2.25 | 3 | 4.25 |